For the third year, Telopea Public School students participated in a poster design competition to promote the upcoming Telopea Community Fair, an annual event supported by PAYCE.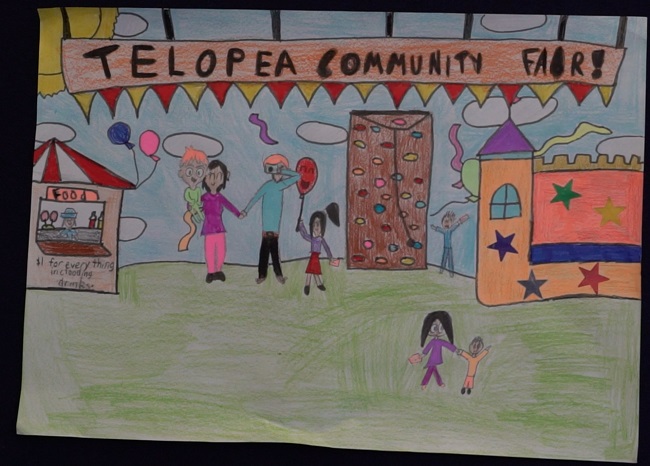 The competition is divided into three divisions: K–Year 1, Years 2–3 and Years 4–6, with prizes of art supplies for the winners of each division and an educational bookshop voucher for the overall winner.
City of Parramatta Council's Lord Mayor, Cr Andrew Wilson and the State Member for Parramatta Dr Geoff Lee judged the entries during a recent visit to the school.
The students' entries were a kaleidoscope of colour and images of the range of attractions and activities on offer for all ages at this year's fair.
The winning artwork depicted a bright sunny day, a family group, a giant jumping castle, a rock climbing wall, food stalls and colourful balloons with smiley faces.
The posters will be widely displayed throughout the area, including local organisations and shops, to promote the annual event.
The Telopea Community Fair will be held on Saturday, 15 September and all proceeds from the day go towards supporting the newly-formed local Youth Choir, which will perform in public for the first time at the fair.
PAYCE is one of the major sponsors of the Telopea Community Fair again this year, as well as a supporter of the Youth Choir.
PAYCE Director, Dominic Sullivan said the poster competition was a wonderful way to involve the younger members of the community in the event.
"The fair takes many hours of community and voluntary effort to organise and to have the students contribute this way is fantastic," he said.
"Congratulations to all the students who entered and to each of the division winners and the overall winner of the poster competition.
Schools as Community Centres' facilitator, Pip Martins said the art competition was an important event in the lead up to the Telopea Community Fair and the school community was thrilled to have the Lord Mayor and the local member along to perform the difficult job of judging the competition.
"It gives the fair and the school recognition and credibility," she said.
"The day really brings the community together to learn, to play with family and friends and to share the skills and resources that we have here in Telopea."
Dundas Area Neighbourhood Centre Director Keith Reynolds said having the children create artwork for the posters really engages them and makes them intimately involved with the fair.
"Having the children express themselves through art is so unique, so to have their input on the poster gives it another flavour," he said.
The winning posters from each division will be on display at the fair.