Integrated residential project Harts Landing, developed by PAYCE in collaboration with leading community housing provider, Evolve Housing, was named best affordable housing development at last night's 2018 Urban Taskforce Development Excellence Awards presentation held in Sydney.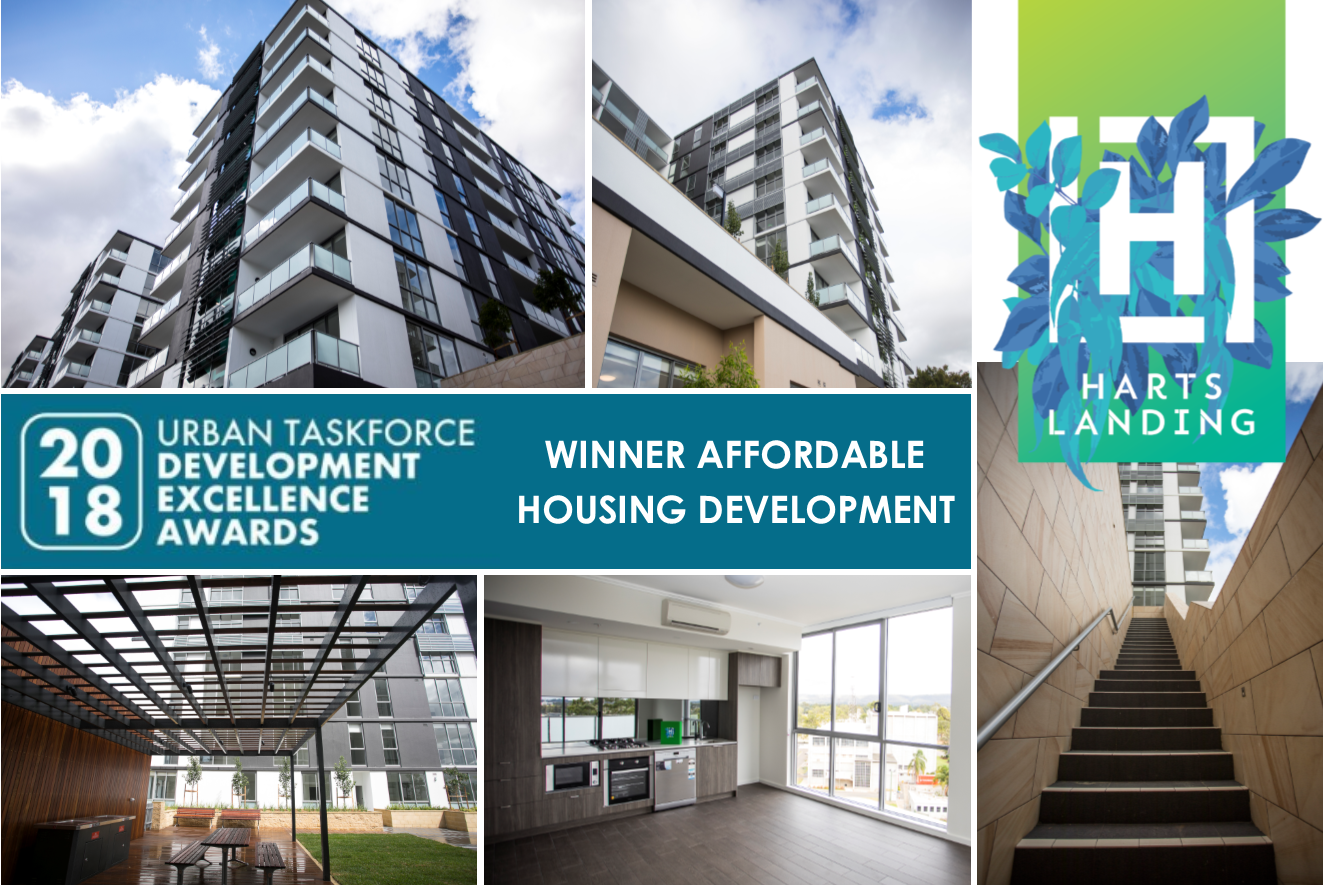 Harts Landing, located in Penrith and close to the central business district and railway station, includes 124 affordable apartments, 10 social housing apartments and 134 private apartments.
PAYCE Director, Dominic Sullivan said he was proud to accept the award on behalf of PAYCE and its development partner, Evolve Housing.
"We share this award with all our friends at Evolve Housing, led by its CEO, Andrea Galloway.   Andrea and her team are leading the way in partnering with private sector companies to deliver much needed affordable housing."
Mr Sullivan said he would also like to acknowledge the project team that developed this outstanding project.  "They include, project managers JAPM, architects and interior designers, Robertson + Marks, landscape architects, Turf Design, construction company, Dasco Australia and our own staff."
Mr Sullivan said Harts Landing was a unique opportunity to create an integrated housing model that ticked all the boxes for affordability and walkability, being close to jobs, transport, shopping and recreational amenities.
"The development addressed the need for more affordable and social housing in Western Sydney and provides accommodation for more than 500 people," he said.
"The modern apartments are of open plan design with light-filled spaces and all finishes throughout the three buildings are of the same high quality, with no difference between the affordable, social and private apartments.
"In addition, all residents have access to the communal spaces that feature barbeques and seating in landscaped gardens," he said.
The Urban Taskforce Excellence Award was the third major award for Harts Landing this month, having recently taken out two Silver Awards at the Sydney Design Awards for architecture and graphic design.