News

First Release of Waterfront Apartments at Ermington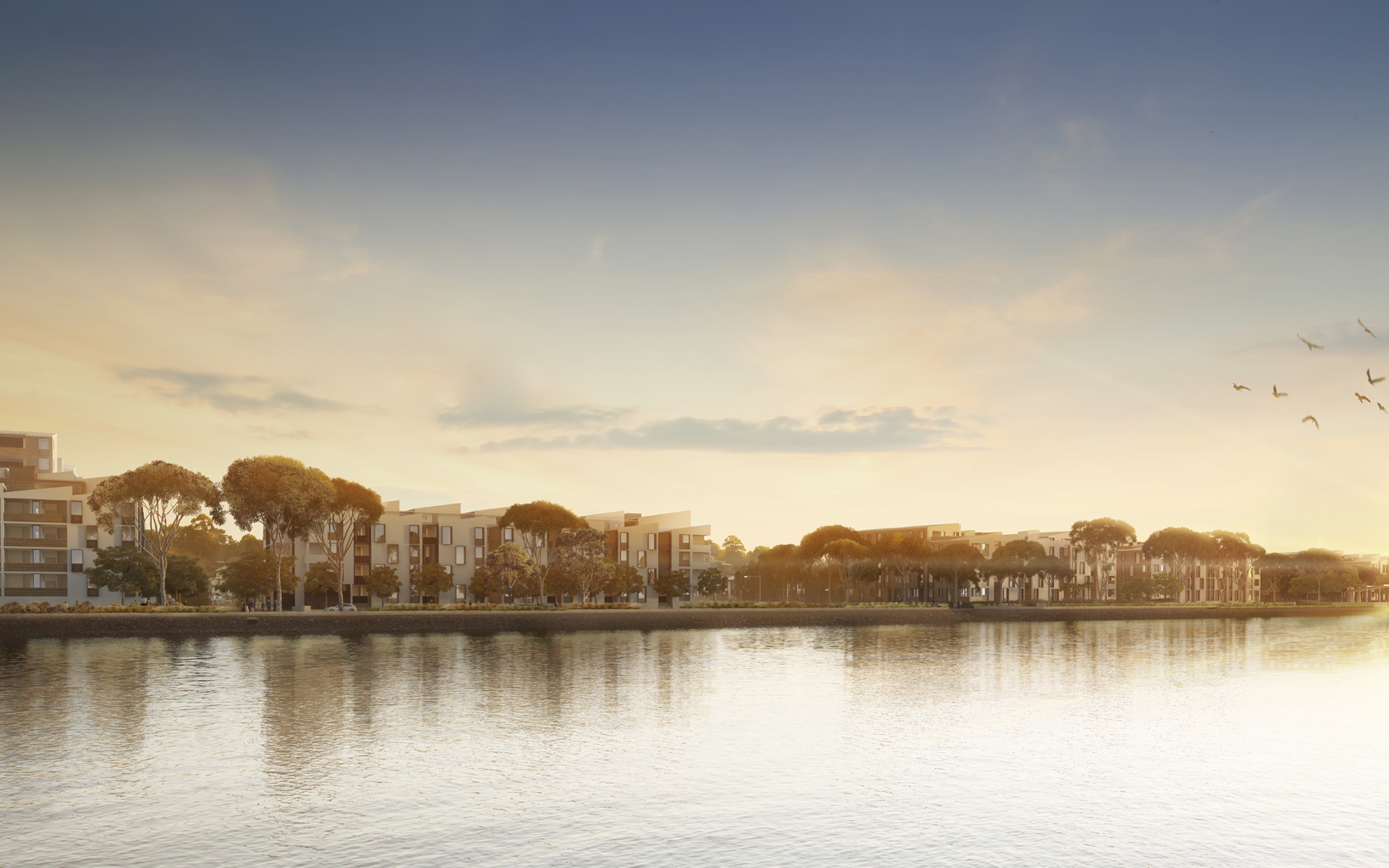 5 March 2015: PAYCE and Sekisui House have started transforming a portion of the former Defence Housing Australia (DHA) site at Ermington into a $450-Million Royal Shores estate. Internal streets and cycleways are already built, the boardwalk is about to be upgraded and a new ferry terminal is on the drawing board.
The first two waterfront buildings at Royal Shores will be launched on Saturday, March 7. Called Safari, the twin six-level buildings cater for a variety of tastes and budgets, with apartments ranging from one bedroom up to four bedrooms.
Defying the trend of 'micro apartments', those in Safari are extremely large and family friendly. There are:
• one-bedroom apartments (up to 89sqm)
• two-bedroom apartments (up to 170sqm)
• three-bedroom apartments (138sqm)
• four-bedroom apartments (182sqm)
The cleverly-configured floorplans provide well-proportioned rooms with inventive storage solutions to make the most of the space, while careful acoustic planning guarantees occupants a serene environment. All apartments include secure car parking, some with a separate lockable storage area.
"Safari has parks to the east and west, uninterrupted water views to the south, and lush landscaping," said Rhys Morgan, Sales Director of Link Marketing Services. "Within each Safari building is an 'inner sanctum' – internal courtyards that allow light and air into the apartments."
Royal Shores is 19km from the Sydney CBD and 5.5km from Parramatta, across the water from Wentworth Point and Sydney Olympic Park, and next to the soon-to-be-rejuvenated 27-hectare George Kendall Riverside Park.
Royal Shores draws on the site's rich maritime history in a contemporary way. Architects HDR Rice Daubney have designed buildings with pitched sawtooth roofs and white-painted brick facades.
Other innovative features include suspended treetop walkways – raised bridge entries – and 'all seasons' rooms, again evoking a maritime flavour.
"Royal Shores takes style, quality and features for this area to a new level," said Mr Morgan, who believes Ermington will quickly become one of Sydney's more exclusive suburbs.
"It is on the water, surrounded by beautiful parklands, serviced by well-developed infrastructure, with the nation's finest sporting and entertainment venues of Sydney Olympic Park just across the way.
"Ermington is also well served by schools and universities, and shopping centres, including Westfield Parramatta, Rhodes and Top Ryde. When you compare the value of property in Ermington to other waterfront suburbs in Sydney the opportunity is outstanding."
Royal Shores adjoins Halvorsen Park, named in honour of the legendary boat building firm, and when completed by the end of 2016 it will comprise 612 apartments in nine separate buildings of up to eight storeys.
PAYCE and Sekisui House have an enviable track record of creating waterfront communities, with both playing key roles in revitalising the once degraded Homebush Bay into the sparkling Wentworth Point. Unlike most waterfront developments, however, Royal Shores gives residents respite from always being on show as the 'all-season' rooms have been positioned to let residents enjoy the water views without feeling they are being looked upon.
"Instead of traditional balconies the 'all seasons' living room creates a huge indoor-outdoor room than runs alongside the apartments," Mr Morgan said. "This allows for the perfect mix of outdoor living on sunny days and a protected haven when more useable internal space is needed."
Interiors at Royal Shores reflect the bespoke approach and attention to details found in the classic timber Halvorsen boats, and residents will have the choice of three colour schemes.
"Design inspiration has been drawn from Halvorsen's craftsmanship," said Angus Henderson, studio leader of interior architecture at Turner, "with timber laminate detailing, nautical-style fittings and wall lights that are reminiscent of boat lights.
"The panelled kitchen islands and overhead cupboards are grooved like a boat hull with a diamond-weave steel marine mesh feature." Mr Henderson described.