News

PAYCE Supported Carrera Cup Team Notches Up First Podium At Phillip Island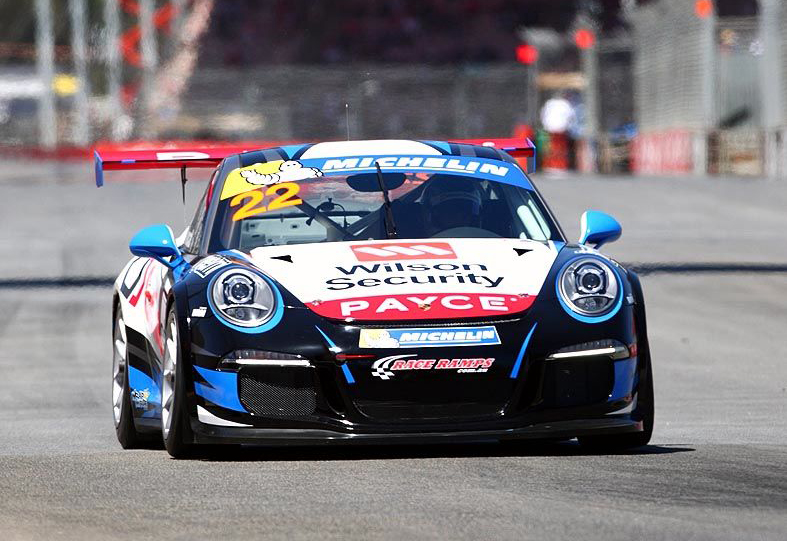 23 May 2015: Young fast-rising star Richard Muscat and his co-driver Sam Walter finished off the first Carrera Cup Pro-Am meeting at Phillip Island with a well-deserved podium result, after bringing the Wilson Security/PAYCE/Genis Porsche home in third place.
Starting in 12th position on the grid, Richard quickly got the Wilson Security/PAYCE/Genis car into stride and by the time the drivers switched, the car was perfectly positioned with a chance of a podium. A last lap pass by Sam while pushing in fourth spot ensured a top three race finish for the team.
The team now moves up three places to 5th place on the leaderboard, the position they held after the opening round in Adelaide.
After Sunday's race Richard said: "Great day. We finished race 2 in second place in the professional class and third place overall, Massive thanks go to my team, sponsors and friends for their support.
"Also thanks to my co-driver, Sam, who did an awesome job all weekend. Couldn't ask for anything more."
PAYCE Managing Director, Brian Boyd said he couldn't be happier for Richard and the team.
"Congratulations to Richard and the whole BRM team in achieving their best result to date. I'm sure many more successes are not far away," he said.
"The Carrera Cup championship is one of the most competitive and challenging categories in the sport and even at this stage, with only three of the eight rounds decided, Richard is showing that talent and a mature approach brings the right results."
The next round of the Carrera Cup Championship will be in Townsville on 10-12 July.