For 48 years, Monsignor Brian Rayner has dedicated his life to his flock, including in the parish of St Catherine Laboure in the southern Sydney suburb of Gymea.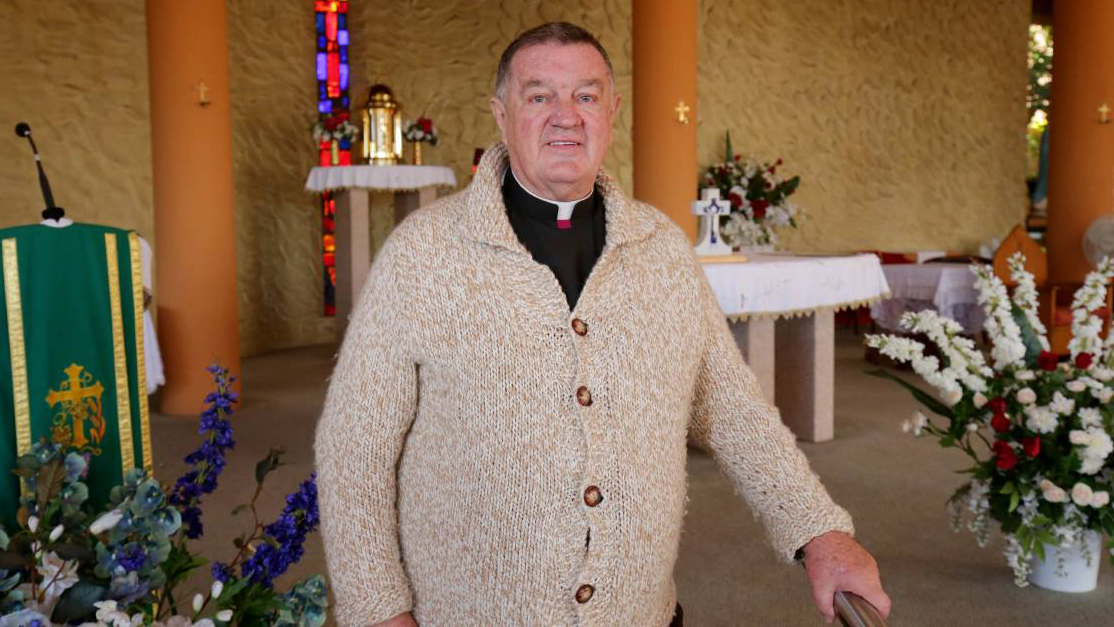 Monsignor Rayner in St Catherine Laboure Church, Gymea – Photo: Chris Lane St George & Sutherland Shire Leader
As well as looking after the pastoral care of the locals, he's also helped some of the most disadvantaged people in the neighbouring Pacific Isle of Fiji.
Over the past 16 years, the Pacific Mission program has sent an astonishing 294 shipping containers filled with essential goods to the poorest neighborhoods of Fiji.
"There are people living in highly disadvantaged areas that are literally dirt poor,'' Monsignor Rayner said.
"Sometimes there is just one towel for an entire household.''
Monsignor Rayner's shipments of linen, bedding, office and electrical equipment, clothing, furniture, tools and training equipment, assists many under-resourced not-for-profits, including schools, a maternity hospital, aged care facilities and trade training organisations.
He said there was not enough blankets, clothing and wraps for newborns at one maternity hospital.
"Some of the babies were being taken home wrapped in newspaper,'' he said.
Monsignor Rayner has relied on corporate, community and philanthropic support to pay for the container transport costs.
The PAYCE Foundation has lent its support to the worthy Fiji project.
The team at PAYCE first met Monsignor Rayner when the Catholic Diocese in Suva sent an urgent plea for help to Australia's Catholic community following the devastating Cyclone Winston which ripped through Fiji in 2016.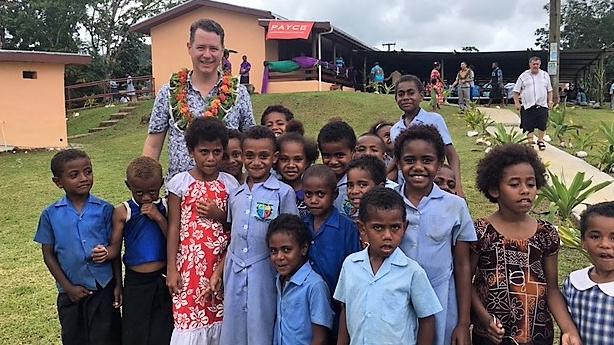 PAYCE Foundation Director Dominic Sullivan with students in front of Naitavuni Catholic Primary School.
The PAYCE Foundation donated funding as well as project management for the rebuild of the Naitavuni Catholic Primary School after it was completely destroyed by the cyclone.
Monsignor Rayner recently retired from parish duties but says he will continue his work to help the disadvantaged, including those in Fiji.
PAYCE Foundation Director Dominic Sullivan said Monsignor Rayner's work has changed many lives over many years for the better.
"It has been an absolute pleasure to assist him in his work to alleviate the distress and pain of so many people living in abject poverty,'' Mr Sullivan said.
"I will always remember the Naitavuni Catholic Primary School rebuild and the children's happy faces when their new school was completed.
"We wish Monsignor Rayner health and our best wishes in the next chapter of his life.''
Monsignor Rayner said: "I would like to thank PAYCE for its extraordinary generosity.''