News

Ermington Foreshore and Halvorsen Park Improvements Handed Over to Community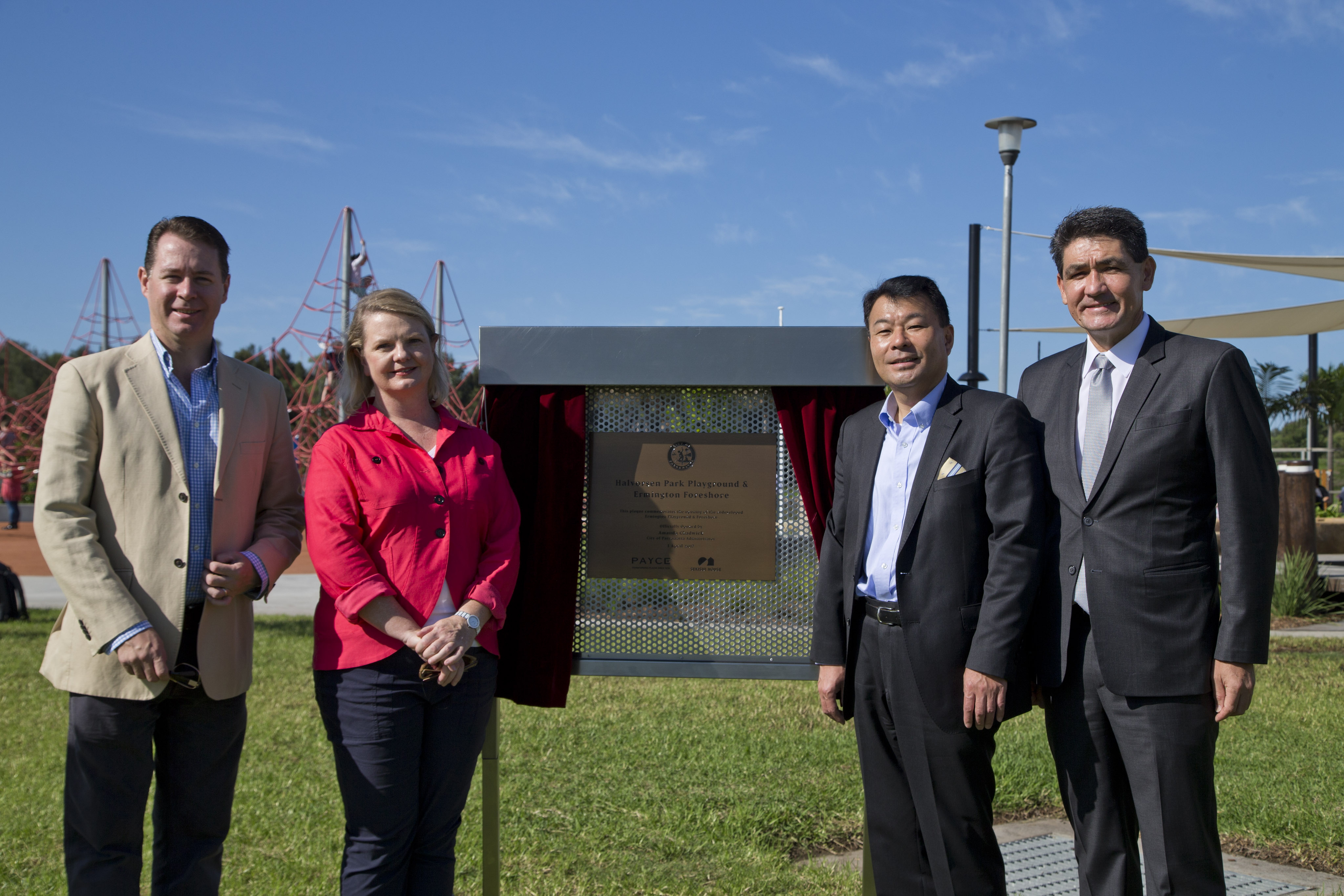 3 April 2017 – Multi-million dollar foreshore improvements and a new Halvorsen Park playground adjacent to the Parramatta River at Ermington were last Saturday (1 April) handed to City of Parramtta at no cost to ratepayers.
The community assets formed part of a Voluntary Planning Agreement (VPA) between Council and leading property development and investment company, PAYCE and Sekisui House Australia, joint developers of the adjacent Royal Shores waterfront residential complex.
Parramatta City Council Administrator, Amanda Chadwick, State Member for Parramatta, Dr Geoff Lee and representatives from PAYCE and Sekisui House Australia were joined by a large group of residents from the area for the official opening of the public facilities.
The opening was timed to coincide with the monthly Markets by the River that regularly attracts large numbers from the local community. Families also enjoyed the free petting zoo, face painting, jumping castle and roaming clown provided by PAYCE and Sekisui House Australia.
The public works include landscaping the Ermington foreshore, stretching 540 metres downstream from Silverwater Bridge, with 290 large sandstone blocks, 4000 square metres of turf, over 50 mature cabbage palms and Sydney red gums, new footpaths and pedestrian linkages to the waterfront, new public artworks, improved cycleways and lighting and two sheltered viewing platforms. A new public 80 vehicle car park off Broadoaks Street with pedestrian lighting was opened in late 2015, also as part of the agreement with Council.
Scoring top points with the younger brigade was the innovative new Halvorsen Park playground designed by specialist landscape architect, Fiona Robbe.
PAYCE Director, Dominic Sullivan said the design was inspired by the riverside location, the exposed wharf piers at low tide, the memorial sculpture for the World War 1 AE2 submarine, as well as Halvorsen Park, named after the well-known timber boat building business.
"The playground design was thoughtfully created to suit children from four to ten years of age with natural elements such as sandstone, hardwood timbers and natural rope inspired by the marine association," he said.
Mr Sullivan said PAYCE worked collaborately with Council and the community to achieve what has been a win-win for everyone.
"The opening was a great turn out by the community who joined in the celebrations and what a pleasure to see all the smiling faces and people enjoying themselves at this fabulous location," he said.
"Prior to the commencement of construction, PAYCE held a community feedback session during a Cinema in the Park event, and incorporated some suggestions put forward by locals.
"The location is a beautiful stretch of river and with the works now complete, they are available all year round for locals and the wider community to enjoy with their families and friends."
Mr Sullivan said PAYCE and Sekisui House were proud of the Royal Shores project and valued their strong track record of working with communities to create inclusive and connected places.
"The foreshore improvements and the playground are for everyone to enjoy and is a great example of well-executed urban renewal and place-making.
"It's a very attractive area to meet up with neighbours, friends and visitors to share and enjoy this wonderful asset that complements the adjacent George Kendall Riverside Park and the shared pathway stretching many kilometres along the river," Mr Sullivan said.
Ends
Media contact: Bill Smith  0412 446 058