News

It's Party Time As Apartments Sell One A Minute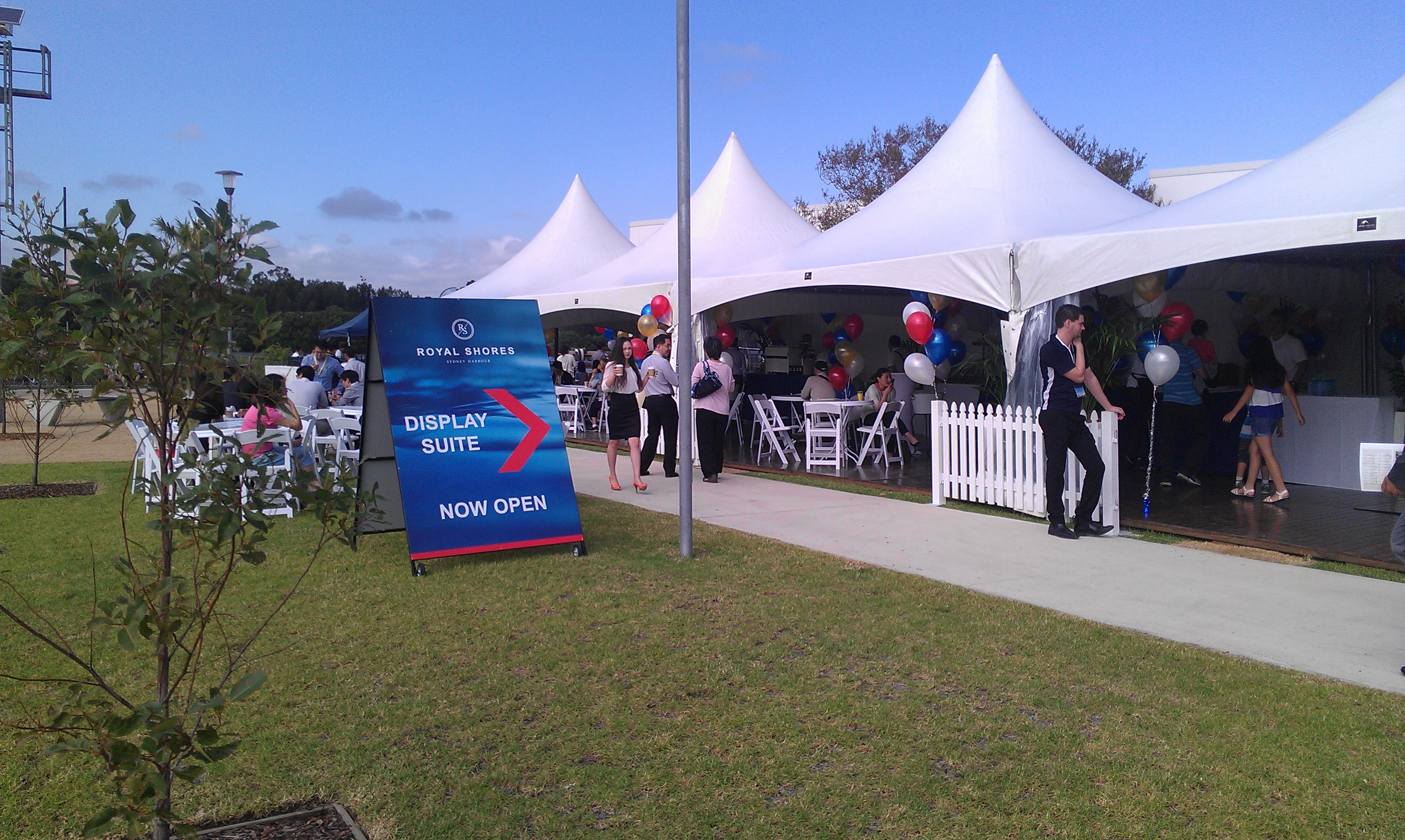 7 March 2015: It had a carnival atmosphere of music, balloons, a kiddies' animal farm, ice cream, cappuccinos and cakes, but the hundreds of people who flocked to a new waterfront estate at Ermington on Saturday were there for a much more serious purpose – to buy into Sydney's booming property market.
More than 170 groups had lodged a refundable $5,000 fee to register their interest in purchasing an apartment in two waterfront buildings at Royal Shores, and from 9am the action was frenetic.
Based on when they had pre-registered, 15 groups at a time were allowed into the display centre in 15-minute intervals. There they were met by sales agents from Link Realty who confirmed if their apartment of choice was still available, before escorting them to a bank of 10 waiting solicitors who formalized the deal.
The process had the precision of a military operation, and for the first two hours apartments sold at the rate of one every minute, encouraging Link Realty to release a third building of 58 apartments. As these apartments became scarce the desperation of prospective purchasers rose, along with the decibel level in the showroom.
By mid-day almost all of the 178 apartments on offer had sold, the majority to owner occupiers lured by the opportunity to live on the north-western reaches of Sydney Harbour.
Royal Shores is a $450-Million estate 19km from the Sydney CBD and 5.5km from Parramatta, across the water from Wentworth Point and Sydney Olympic Park, and next to the 27-hectare George Kendall Riverside Park.
It is being developed by PAYCE and Sekisui House on a portion of the former Defence Housing Australia (DHA) site. Internal streets and cycleways are already built, the boardwalk is about to be upgraded and a new ferry terminal is on the drawing board.
"Royal Shores takes style, quality and features for this area to a new level," said Link's sales director Rhys Morgan, who believes Ermington will quickly become one of Sydney's more exclusive suburbs.
"It is on the water, surrounded by beautiful parklands, serviced by well-developed infrastructure, with the nation's finest sporting and entertainment venues of Sydney Olympic Park just across the way.
"Ermington is also well served by schools and universities, and shopping centres, including Westfield Parramatta, Rhodes and Top Ryde. When you compare the value of property in Ermington to other waterfront suburbs in Sydney the opportunity is outstanding."
Royal Shores adjoins Halvorsen Park, named in honour of the legendary boat building firm, and when completed by the end of 2016 it will comprise 612 apartments in nine separate buildings of up to eight storeys.
PAYCE and Sekisui House have an enviable track record of creating waterfront communities, with both playing key roles in revitalising the once degraded Homebush Bay into the sparkling Wentworth Point. Unlike most waterfront developments, however, Royal Shores gives residents respite from always being on show as an innovative 'all-season' room has been positioned to let residents enjoy the water views without feeling they are being looked upon.
"Instead of traditional balconies the 'all seasons' living room creates a huge indoor-outdoor room than runs alongside the apartments," Mr Morgan said. "This allows for the perfect mix of outdoor living on sunny days and a protected haven when more useable internal space is needed."
Royal Shores is at 1 Bundarra Street, Ermington. An on-site display centre operates daily from from 10am